Through Conduit Double Expanding Gate Valve - E50D
Cast Steel Type
This type is designed and produced for pipelines. It should be preferred for On-Off services. Emergency Shutdown, Line Break and Remote Control types provide sound operation of the line.
They are manufactured with a full bore section equals to pipeline cross section. Opening without decreasing the differential pressure is not recommended.
Disc is designed as two-pieces and may be tightened in both open and closed position. It is possible to use these type with fixed rings.
Application Area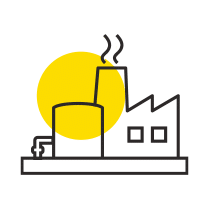 Functions
ESDV - LBV - SOV - BDV - SDV - MOV - MAN - Process Valve Systems