Cast Steel Wedge Gate Valve - E500
Wedge Gate Valves are used as on-off and isolation valves in oil, gas, water, Sea water and steam lines.Custom products are manufactured for high pressure and/or high temperature services. It is important to make the material selection according to the fluid corrosion.
Upon request it can be manufactured in bigger sizes and from various materials. Custom-made wedge gate valves are manufactured to meet the requirements for high-pressure water, sea-water and waster-water systems.
SIL 2 & 3 certified. When required it can be manufactured from special material according to NACE corrosion standards and/or temperature class.
Application Area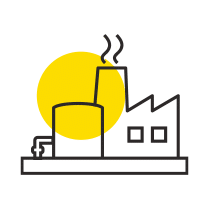 Functions
ESDV - SOV - BDV - SDV - MOV - MAN - Process Valve Systems